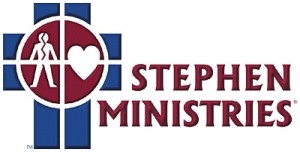 Stephen Ministry is Christ caring
for people through people.
Click on the logo for information.
Stephen Ministry Team Leaders

Michele Pitts & Suzanne Conger – Stephen Leader Team Co-Coordinators
P. Z. Sinclair – Stephen Leader Referrals Coordinator
Patty Boardman & Michele Pitts – Stephen Leader Communication Co-Coordinators
Kerry Locke & Janis Dorsey – Stephen Leader Training Co-Coordinators
Suzanne Conger – Stephen Leader Supervision Coordinator
Contact us by calling the church office at 317-272-4068
New Stephen Minister Training Begins January, 2022
For more information about Stephen Ministry Click HERE.