What is the Avon UMC Endowment Fund?
And endowment is a donation of money or property to an institution, such as Avon UMC, with the understanding that the money is to be invested and remain a perpetual source of funding for our ministries.
How is the Fund managed?
The AUMC Endowment Fund Committee oversees the investment of gifts and the utilization of distributions of the Endowment Fund, in accordance with the Endowment Fund Charter and designations of the donors.
Each year distribution allocations are made based on a percentage of the fund's value and is taken from a 5-year rolling average.
The Committee invests donations and gifts through the United Methodist Foundation of Indiana, Inc., which manages the investment accounts of over 150 United Methodist churches in Indiana. This allows the Committee access to top flight money managers and ensures portfolio diversification. All investments through the Foundation comply with the United Methodist socially responsible investment principles.
The Foundation also offers free advice and services to persons interested in donating stocks, bonds or real estate or those wishing to include the Avon UMC Endowment Fund in their estate plan.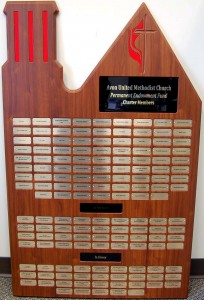 What can I give?
Large or small donations to the Endowment Fund can be made anytime. A popular way is to honor family or friends on their birthday or other special occasions. Birthday cards and instructions are available in the Avon UMC Narthex and instructions are available HERE.
Gifts included in your estate planning are the most common because you leave a lasting legacy while retaining full use of your assets during your life.
These might include:
Bequests
Retirement Fund assets
Certificate of Deposit Savings Accounts
Can I designate how my gift is used?
Gifts can be designated to one of four accounts:
Property, Missions, General
Pastor Karen Devaisher Scholarship
Mission funds target local church and community mission projects while Property designations are used for improvements or construction of physical facilities not included in regular budgets.
The Pastor Karen Devaisher Scholarship provides assistance to our members pursuing a degree in theology or wishing to further their Christian education.
Gifts of $5,000+ can be designated for another church need identified by the donor, conditioned on the approval of the Endowment Committee.
How will Fund distributions be spent?
Gifts can be made to any one of the four established accounts—Property, Missions, General and Pastor Karen Devaisher Scholarship.
Additional information can be found in the Fund Charter, and is available in the church office.
Is my donation tax deductible?
With few exceptions, the answer is "yes". The amount and nature of the deduction depends on the type of gift, etc.
Why should I give?
A gift to the Avon UMC Endowment Fund is a tangible testimony of your long-term commitment to the spirit and grace of God, your church family, your children, and beyond.
It is a lasting tribute to The Father, and solidifies your legacy in the Avon United Methodist Church forever!