Below are ideas for ways you, your group, or your family can serve our community this September.
Limited funding is available but needs to be requested prior to spending- $200 limit is available.
Nehemiah Ranch
Contact Jeff Fluharty at:
Cancer Turban Cutting
Contact Jane DuMond at:
Date: Tuesday, September 28th
Time slots:
5:00 – 6:30 pm – 12 people can sign up
6:45 – 7:30 pm – 12 people can sign up
Blood Drive
Contact Donna Curtis at:
Sunday, October 10th at Avon UMC
Shortages of all blood types remain critical in Indiana. On Sunday, October 10th, AUMC will be sponsoring a blood drive on site to help close that critical gap. If you are searching for a way to serve in September, please consider signing up to give blood…and give life! More information will be posted soon regarding the sign-up process.
Shut-in Baskets
Contact Kelly Humphrey at:
Meal Trains
Contact Kelly Humphrey at:
Card Ministry
Contact Kelly Humphrey at:
Fletcher Place
Contact: Suzanne Conger, 317-908-1433
October 3rd Celebration Help
Food Pantry Opportunities
Hope Healthcare Services
Dayspring Center
Contact P. Z. Sinclair at:
Host a Scavenger Hunt
Roberts Park UMC Soup's On
Contact Dipti Shields at:
Roberts Park United Methodist Church, the oldest remaining church in downtown Indianapolis, is celebrating its 200th anniversary. Our church has served in Roberts Park's Soups On Ministry, a soup kitchen that serves the homeless in the community, for over twenty years. There will be a historical tour of the church at 1:00 pm on September 18th. Anyone from our church is welcome to attend and the price of admission is a donation of one of the following: white/black socks, winter gloves, or male underwear in any size. There will not be organized transportation to the church, we will meet in the parking lot to the East of the building. For any questions and to RSVP, please contact Dipti Shields at: dipti.todd@gmail.com
Gleaners Food Bank
Dear Church Family and Friends,
Our Love Does Continues small group recently accepted the challenge to become a Hunger Hero and support Gleaners Food Bank of Indiana. Please help us feed our Hoosier neighbors by giving generously. They give aid to Hendricks County and many areas in the Indianapolis area! Click here for a short video and more information about Gleaners.
It is faster and easier than ever to support Gleaners through our fundraising page by making your donation online using the link below. If you would prefer, you can send your contribution directly to Gleaners at the address listed below, just put TeamRaiser and my name in the memo line. Money goes so much further than donating cans.
We will be volunteering on September 25th for our service September project.
Whatever you can give will help – it all adds up! We greatly appreciate your support and will keep you posted on our progress.
Sincerely,
Patty Lyday
To make a donation online, visit my personal page.
Other Opportunities to Serve
Missions Team Blood Drive Tammy Jessup/Donna Curtis Sunday, October 10th
AUMC Staff Shut-in Visits Danny Walker
Finance Team Collecting Shoes for Rotary Club Ryan Sinclair
Trustees Scavenger Hunt Linda Dobbs
Newcomer Ministry Sock Drive for Vets/4th grade Shadows Patsy Porter September 15th
Tuesday Morning Men Nehemiah Ranch September 24th
United Methodist Men October 3rd Celebration
Children's Council Town Hall Park Clean-up Greta Rohe/Crista Moore
Youth Ministry Roberts Park Lunches James Darby
Stephen Ministry Sack Lunches for Homeless Suzanne Conger September 12th – 13th
Men's Devotional Group Work Day at the Pavilion Dave Imler
Mary & Martha Assemble Hygiene Kits Patsy Fleener/Kathy Haviza
Sisters in Strength Card for Nursing Home/Baskets of Cheer Shannon Leigh/Suzanne Conger
Morning Glories/WinGs Kits for Midwest Missions Mary Marty/Joanne Walter
Health Ministry Hope Health Care Screenings
Play-N-Share Mary Lee Maier Food Pantry
Love Does Continues Gleaners Food Bank
Mission Guatemala Nehemiah Ranch Jeff Fluharty
Couples Senior Services of Hendrick County P. Z. Sinclair
Nomads Sharing RV Ministry at Celebration Mike Johnson Sunday, October 3rd
Couples 2 Cleaning & Organizing Donations for Homeless – Midwest Mission
Koinonia Circle Family Promise
Balanced Life Group Shut-ins Donna Curtis
Virtues Small Group Nehemiah Ranch Kyle Pellet
Albert's Small Group Nehemiah Ranch Saturday, September 25th
Serving September Challenge
"Morning Glories and WinGs" – Women's' Bible Study response/action
Midwest Mission Distribution Center – a partner of UMCOR (United Methodist Committee on Relief)
Background: The ladies of these two bible study groups have generously provided financial support to women from AUMC to purchase some of the fabrics needed to sew products needed by Midwest Mission Distribution Center. Items included infant gown and jackets, diapers, baby blankets, quilts, feminine hygiene products, school bags and face masks that are needed on a regular basis to assist persons/organizations, across the United States and internationally, who are experiencing some form of need/crisis.
Response to Serving September Challenge: "Individually we can each make some impact, collectively, we are able to pull financial and material resources together to make a much greater difference in impacting our 'world'." And so, the Serving September Challenge provided an excellent opportunity for theses two Bible study groups to expand upon the financial support they had been providing the ladies who had been sewing and couple that with providing items and/or financial resources to make four different "kits" Midwest Mission regularly distributes around the world.
On Thursday, September 2nd, following Bible Study, a packing party was held to create 13 Birthing Kits and 20 Layette Kits (likely to be distributed internationally) 12 Dignity Kits, and 30 School Kits (likely to be distributed nationally or internationally). Theses kits will be delivered to Midwest Mission Distribution Center September 10th by Joan Walter, Michele Imler, and Lynn Brown.
In additional to the kits that were assembled, they will also take the following items that had been sewn and waiting for delivery:
1 layette gown, 88 cloth diapers, 300 diaper pins, 81 school bags, 22 infant jackets, 24 pair of surgical gloves, and 12 quilts
The fun of giving did not stop with the kits to Midwest Mission, because the ladies of these two groups gave more of some individual items than we had kits to fill, we were able to provide for some local needs – Avon Community Schools have in their possession to give to students/families in need the following items:
162 pencils, 27 erasers, 4 pencil sharpeners, 19 college rule notebooks, and 1 pair of scissors. And last but not least, Family Promise was given 20 infant wash cloths, 33 (various sizes) Onesies, 8 bars of soap, 31 receiving blankets, and 10 adult wash cloths.
To God be the Glory for the many things He can do when His people hear and respond to the needs of the "least of these"!
Sisters in Strength Sunday School Class made goodie bags and wrote cards to one wing of residents (24) at the Majestic Care of Avon (elder care home).
Helping the Stephen Ministers "Serving September" project by making PB&J Sandwiches for Fletcher Place Community Center with my mom and her caregiver, Susie. – Kerry Locke
Greetings from the Marty's at Midwest Mission Distribution Center (MMDC) in Illinois, one of several such United Methodist related centers in the U.S., from which disaster relief supplies and other resources are shipped to places in America and around the world.
We're volunteering here all week (September 13th – 17th) and are really impressed with all they're doing. Right now I (Dave) am helping build school desks – some out of new wood and some out of repurposed bleacher seats – and prepping them for shipping. (See photos of schools where they're now being used.) At the same time Mary is helping assemble "personal dignity kits" with hygiene supplies that will go to people in need.
In cooperation with the United Methodist Committee on Relief (UMCOR), MMDC is currently loading trucks with flood buckets that will be sent to various places in the U.S., especially those recently devastated by Hurricane Ida.
It's amazing to see United Methodist Christians working together with others to be the hands, feet and heart of Christ in the world!
– Dave and Mary Marty
AUMC Small Groups in Action!
The Newcomer Ministry Team project for Serving September was to honor Bob Schmidt. The team collected 370 pair of socks to be given to The Homeless Veterans Association and to Sheltering Wings.
Bob started the sock collection for the VA for the AUMC Missions Team years ago. Thank you Bob for leading by example!
These are the photos from Koininia's Serving September at Family Promise in Plainfield. They cleaned and donated needed items.
Here are some pictures from Circle of Friends. We gathered canned and boxed goods for the No One Left Behind outreach in Brownsburg . They are a non profit that helps families in many ways. They have a food pantry, help pay utility bills, help with birthday gifts when families are struggling to provide presents and many other things.
We also filled 6 boxes for Operation Christmas child. We are excited to be able to track our packages and see where our boxes end up. We will also be praying for the families who will receive our boxes and the many volunteers who help with this project. We will be praying that the families will come to know Jesus as a result of the teaching they will receive through this project.
Thank you, Michelle Alcorn and Circle of Friends
Echo Youth packed and served meals at Roberts Park UMC for their Serving September project.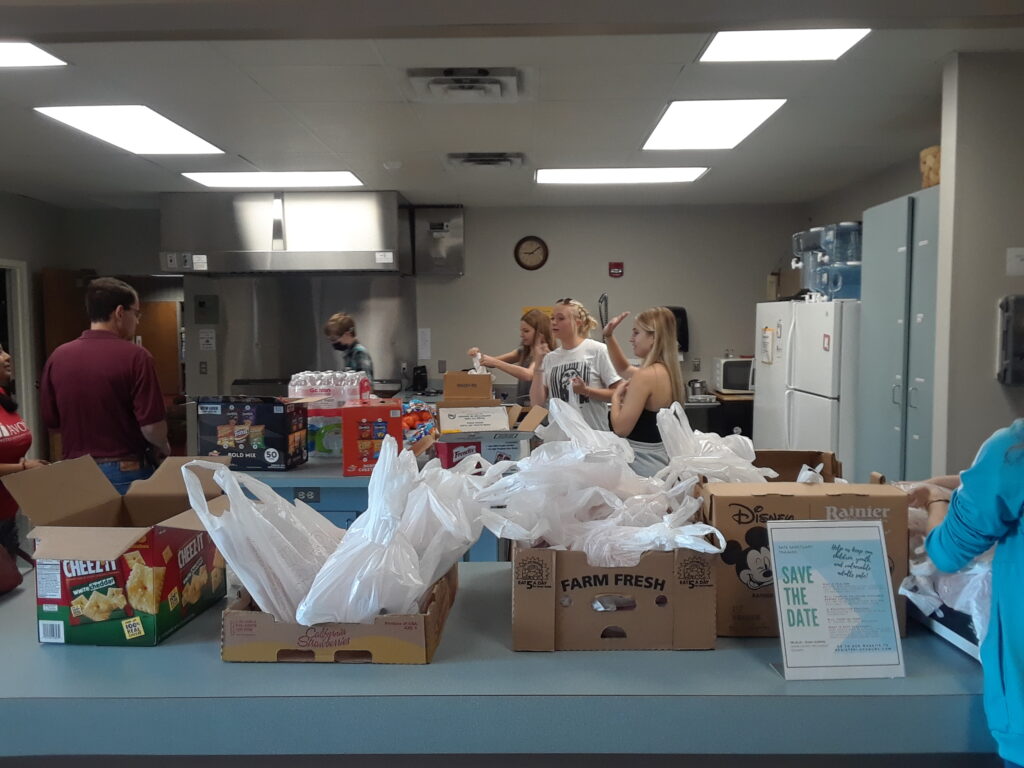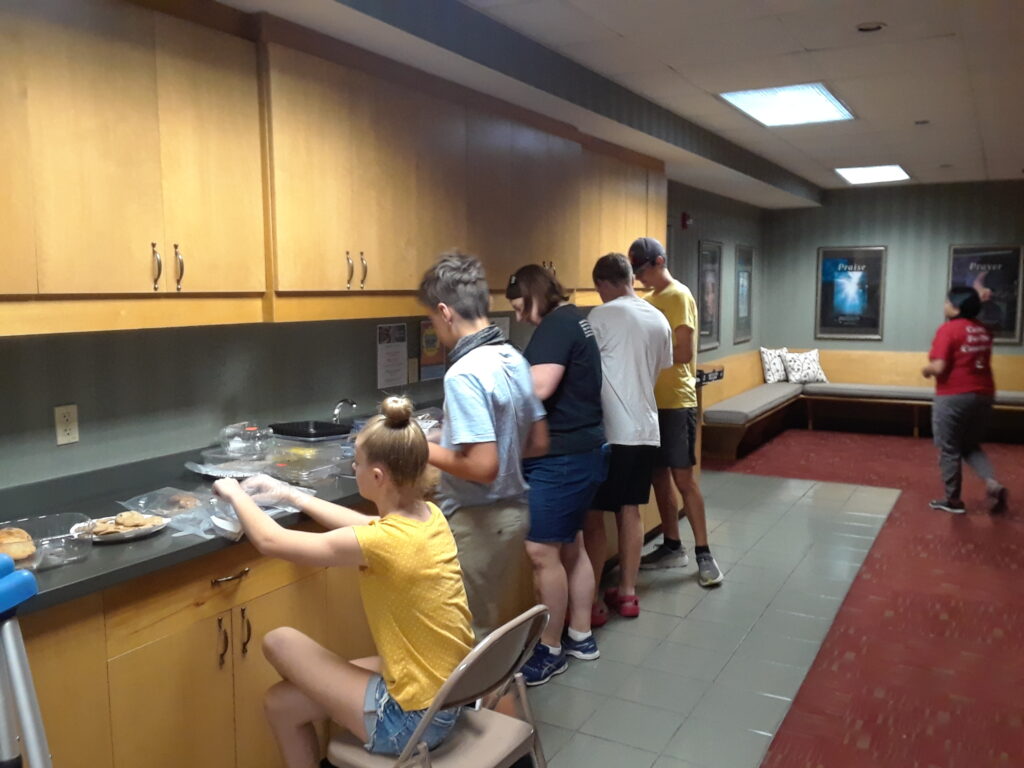 The Hinkle-Schuerman family helped to clean up their community along Speedway Drive as part of Serving September.
– Michael Schuerman, Rhonda J Hinkle, Everett Schuerman, & Oliver Schuerman
Loves Does Continues small group at Gleaners. Served 366 families in drive thru.
The Balanced Life Class decided to serve AUMC members Bob and Kathy Dillon during "Serving September". We signed up for numerous Meal Train times and also arranged to visit with Kathy on Tuesday mornings so that Bob could attend Men's Bible Study. As in all serving; we think we benefited from our time with them as much or more than they benefited from us! Here is a note from one of our couples who took them a meal: "We had a delightful visit with Bob and Kathy. We used to sit in front of them in the back of the chapel before COVID-19 so it was good seeing them again. We visited for about half an hour. Both Bob and Kathy love to talk and it was so interesting listening to them share about their life together – since they were 10 years old! Jim and Bob talked a lot about motorcycles and their involvement with Westminster and dog showing. Kathy shared about her daughters, Pennsylvania, their first home, motorcycle ministry, her fall and all she went through at the hospital, and so much more. It truly was a wonderful experience and of course, Kathy gave us a gift of a couple of little books. It was so very thoughtful of them. Truly a blessing to share time with such wonderful people."
Play-N-Share serving at
Mary Lee Maier Food Pantry
Wesleyan class painting Bob and Kathy Dillon's front door. This is Teana Norcutt and Mary Sue Lisby representing the Wesleyan class.
Turban Cutting for Serving September
A New Day collected supplies for the Afghan evacuees at Camp Atterbury. They delivered them to the Danville National Guard Armory.